Ann Arbor is the home of the University of Michigan, one of the foremost research universities in the United States. Coupled with their strong athletic presence, Ann Arbor has something for everyone. It is also one cool place to live and has repeatedly been named as one of America's most livable cities. In 2015, Ann Arbor was even ranked 13 in LivAbility Magazine's "Top 100 Best Cities to Live". Pronto Pest Management is dedicated to providing the residents of Ann Arbor with the highest quality pest control and keeping the livability in this great city as high as possible.
Pronto Pest Management provides their exceptionally good bed bug inspection services to the entire Ann Arbor area. We can help you determine the extent of your pest problem as well as the best method to eliminate it. All prevention and control measures are provided by our Bed Bug Elimination specialists and every treatment program is effective and comprehensive. Pronto Pest Management helps determine the underlying causes of your pest problems and offers a unique, highly specialized solution catered to your specific needs.
Ann Arbor's Best Solution for Bed Bugs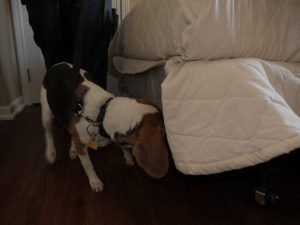 Canine scent and visual detection are the two main ways pest control companies perform bed bug inspections. However, visual detection only promises a 50% accuracy, whereas the accuracy of scent detection sits between 95-98%. Scent detection canines that are properly trained and maintained, like our K9 Detectives, can detect traces of bed bug activity that visual detection will easily miss. Visual inspections are also much more time consuming and often result in a false positives. These false positives can cost homeowners money they do not need to spend. This happens because even a trained eye has trouble telling the difference between live bed bug activity and the remnants of dead bugs.
The places to find bed bugs in your Ann Arbor homes
Bed bugs spend most of their time hiding waiting for you to fall asleep before revealing themselves and moving in to feast. Unless an infestation has gotten out of control it is the increased CO2 levels you emit while sleeping that let them know it is safe to come out of hiding. This, coupled with their small size, makes it very difficult to detect them unless you know what you are looking for and where to look. Bed frames, box springs, seams and tags of the mattresses and night stands are some of the common places bed bugs hide. However if you frequently take naps in your living room they may even take up residence in and around your furniture.
Ann Arbor Bed Bug Elimination Plan
Pronto Pest's Bed Bug Elimination Teams distinguish us from the competition. Well-trained and skilled Ann Arbor bed bug detection dogs will be sent to check for any signs of live bed bug activity throughout your home or business. If and when we detect the presence of bed bugs our specialists will propose the best solutions to eliminate the problem. Pronto Pest uses a variety of professional equipment and methods to get rid of harmful pests, including:
Chemical treatment
Steam treatment
Thermal remediation.
To ensure that our services meet your satisfaction, we conduct another inspection after the last treatment to ensure that any unwanted pests have been completely eliminated.
Keep your Ann Arbor property clear of unwanted pests with regular bed bug inspections
As part of our commitment to providing the best bed bug control services in Ann Arbor, Pronto Pest Management utilizes the latest in equipment and application methods. This combined with over 41 years of experience in pest control allows for a more effective, safe, and precise application of insecticides. Our bed bug inspection service is part of our signature pro active bed bug elimination plan.
---
Ann Arbor Bed Bug Inspection Testimonials
Pronto Pest Management/Pronto Bed big has been a stress free, prompt, and professional staff throughout our entire experience with them. Setting appointments has been easy and they have accommodated us at the last minute on a few occasions as well. The entire staff is friendly and possesses a depth of knowledge in the bed bug area. It has been helpful when explaining the process and options to our tenants.

The K-9 service has been a lifesaver in regards to detecting bed bugs in our units. Having options to service the units from sprays to heat treatments gives the tenants a feeling of fairness in pricing for their situations. The follow-up visit puts the tenants as well as our staff at ease and allows everyone to go back to their normal way of living.

We have had a great working relationship with Pronto Pest Management and see no reason why anyone who decides to do business with them would not due to their promptness, professionalism, and consistency.

Prime Student Housing Staff
Ann Arbor, MI