The Pronto Pest Proactive Bed Bug Removal Plan
Our 3-phase Bed Bug Removal Plan is the result of 24 years of experience dealing with the removal of bed bugs from all kinds of properties.
We have taken the knowledge gained from our teams' collective experiences with bed bug control and developed a 3 phase plan that can solve moderate to severe infestations.
Need to reclaim your home and your peace of mind? We have the solutions to help you and your family sleep better at night. Is your apartment complex suffering due to an infestation? We can help you eliminate the pests and give your tenants a pest free environment.
Our bed bug removal services and treatment options are industry leading in their approach and effectiveness.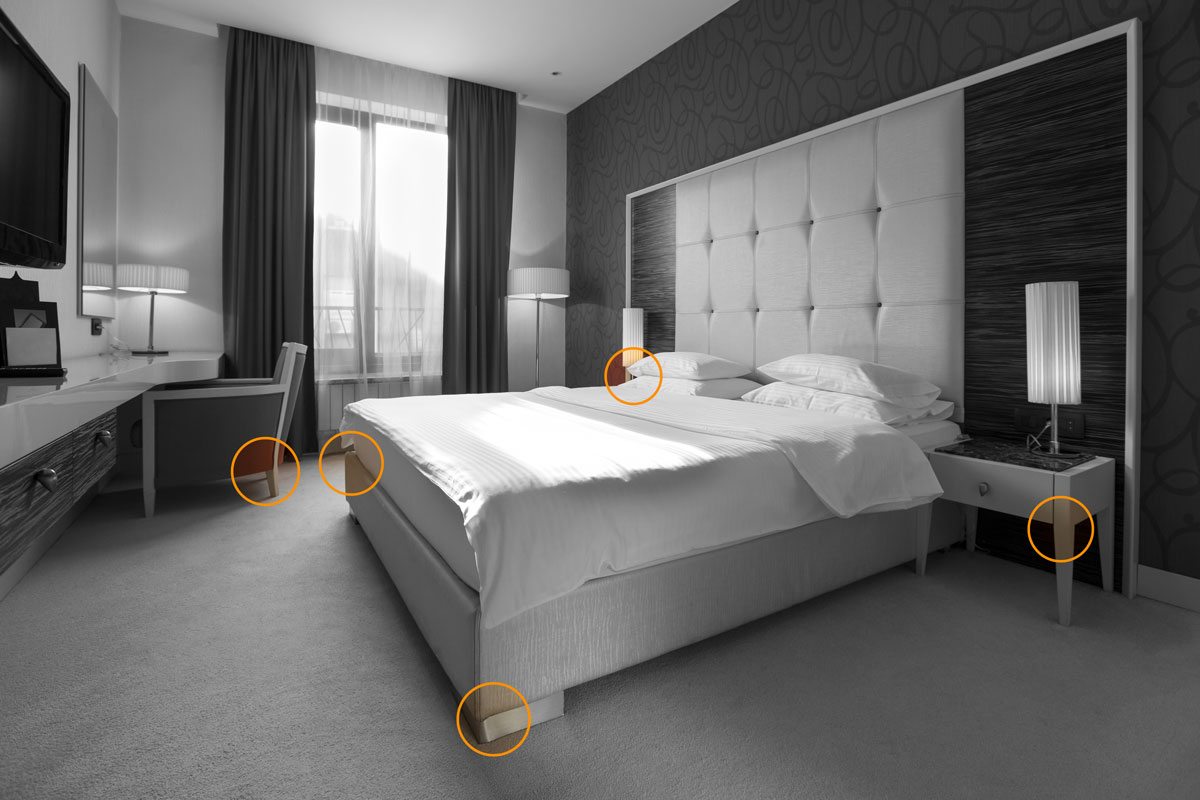 Our 3-Phase Approach
Phase 1: Bed Bug Inspection
Proper Bed Bug removal starts with an inspection We will send one of our Scent Detection Canine Teams to your property to inspect for live bed bugs and viable eggs. Our trained and certified canine teams will inspect your living area for any live bed bugs activity.
If the search indicates the presence of live activity we will move on to Phase 2.
Phase 2: Bed Bug Removal
Pronto Pest utilizes three methods for bed bug treatment.
Chemical Treatment
Pronto uses chemicals that have been proven, through research, to be effective in eliminating bed bugs. The company's first concern when using chemicals is the safety of its customers. The chemical is odorless and once it dries it is not harmful to people or pets.
Steam Treatment
Bed bugs die in less than 60 seconds at a temperature of 120 degrees and above. If that temperature is 118 degrees, only 2 degrees less than 120, it takes over 90 minutes to kill bed bugs. Pronto utilizes professional portable steamers, that operate at a temperature of 270-280 degrees.
Thermal Remediation
Pronto Pest utilizes the Temp-Air heating system, which is the Cadillac of heat systems specifically designed for bed bug removal. The thermal remediation system heats up the entire area of the property and is the most effective in quickly eliminating live bed bugs.
Phase 3: Bed Bug Prevention
Treatment for bed bugs is completed when no live activity can be detected and no bites are being reported. A re-inspection will be done by a scent detection canine team to ensure that no traces remain of these pests. When it comes to bed bug prevention, you can never be too careful and it is better to go the extra mile and leave no chance for another infestation. If after treatment live bed bugs are detected by the scent detection canine team then treatment is resumed until the bed bugs are eliminated. If no live bed bugs are detected during re-inspection it is assumed that problem has been eliminated.
Owners of Multiple Dwelling Facilities
In order for multi-unit facilities to stay on top of infestations, it is recommended that regular inspections be a part of any bed bug prevention plan that truly seeks to get rid of bed bugs. Don't ignore the complaints from tenants about waking up with bug bites! Act now, because "Early detection means easy elimination." It is easier to kill a couple of bugs than it is to kill 100's.
Call Pronto Pest Management and ask about our quarterly inspection program which is designed to help control the spread of bed bugs by finding problems before they become infestations.