Oak Park is a culturally diverse suburban community housing 30,000 residents. A family-centered environment, it is known for its financial stability and promotion of residential and business growth. The City boasts an A+ Positive bond rating from Standard and Poor's. As an evolutionary and progressive community, Oak Park has begun to move toward the future to capitalize and establish a city center among the array of cultures that inhabit the community. Pronto Pest Management is devoted to providing the residents of Oak Park with quality bed bug inspection services in efforts to keep this suburban retreat focused on its noteworthy attributes. We strive to keep Oak Park free of damage caused by Bed Bugs in order to keep this socially and physically welcoming atmosphere.
Pronto Pest Management provides exceptional pest control services to the entire Oak Park community. Protecting Oak Park from invasive pests and the consequences that can arise from infestation are fundamental to Pronto Pest's mission. Our services extend past elimination. We offer Preventative Bed Bug Inspections and Regular Screenings to ensure that all measures are taken prior to infestation. This is especially important when we are faced with the possibility of encountering our most common and defeated enemy: Bed Bugs. Our Bed Bug Elimination experts apply the most cutting-edge techniques in pest control technology to help identify, eradicate and prevent infestation of any kind.
The Best Option for Bed Bug removal in Oak Park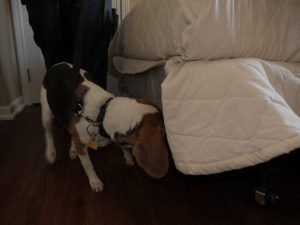 There are two main options when it comes to bed bug inspections canine scent detection and visual detection. Between the two, scent detection has a better accuracy rating of 95-98% compared to the 50% accuracy of visual detection. When a dog is properly trained and maintained like our K9 Detectives, they can detect even small traces of bed bug activity in a very short amount of time. A visual inspection can easily take 10 times as long as scent detection and result in a false positive since it is hard for even a trained eye to visually tell the difference between dead bed bug remains and live bed bug activity. Therefore, dogs that have the necessary certification can save people a lot of time and money by sniffing out the pests during their first inspection.
Where bed bugs hide in oak park homes
Unless an infestation has reached extreme levels bed bugs tend to spend most of their time hiding. Only coming into the open when they have sensed increase CO2 levels from a sleeping person. This is what makes it so hard to detect them when you are awake. Common places these pests tend to hide include bed frames, box springs, seams and tags of the mattresses, night stands and even furniture where people may take naps.
A thorough bed bug inspection will include all the areas mentioned above and leave no room for error. Saving you time and money in the long run.
Oak Park Bed Bug Elimination Plan
Pronto Pest's Bed Bug Elimination Specialists distinguish us from the competition. Well-trained and skilled Oak Park bed bug detection canines are on call to check for any signs of live bed bug activity throughout your home or business. Our dogs produce a 98% success rate. We are known for being the first in the Mid-West to pioneer and successfully implement such techniques. When the presence of Bed Bugs is detected, our specialists propose only the most paramount solutions to eliminate the problem and prevent reoccurrence. Pronto Pest utilizes a variation of professional equipment and methods to get rid of harmful pests, including:
Chemical treatment
Steam treatment
Thermal remediation
To ensure that our services meet our customer's satisfaction, we conduct an additional inspection post treatment to guarantee that any unwanted pests have been completely eliminated.
Keep your Oak Park property clear of unwanted pests with regular bed bug inspections
As part of our commitment to providing the best bed bug control services in Detroit, Pronto Pest Management utilizes the latest in equipment and application methods. This combined with over 41 years of experience in pest control allows for a more effective, safe, and precise application of insecticides. Our bed bug inspection service is part of our signature pro active bed bug elimination plan.